Filmed across 7 months, we sourced young members of each major faith community and Humanism to present two films each: The Five Key Facts of their faith, shot like a 'day in the life'; and Me and My Community, shot during a key festival event. In addition, we hired several presenters across 8 films to discuss in each a different Moral, Ethical or Philosophical question and how each belief system relates to it. Released as the country went into lockdown, we're proud we helped with the homeschool effort and some films featured on Bitesize TV too.
Nominated for Best Children's Programme at the Sandford St Martin Awards 2021.
Watch them here: https://www.bbc.co.uk/bitesize/subjects/zh3rkqt
Just wanted to give a massive thanks to you and your team. It was a great pleasure working with everyone and I am extremely pleased with how the videos came out. Don't worry about getting the word around about the videos, I didn't even tell my friends about them when they came out and somehow I got so many messages from people saying that they had seen them...
One of our terrific contributors
Broadcaster

Credits
Assistant Produced by
Alastair Collinson
Awards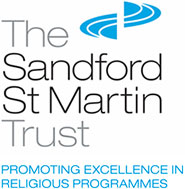 Sandford St Martins 2021
Nominated - Children's Award